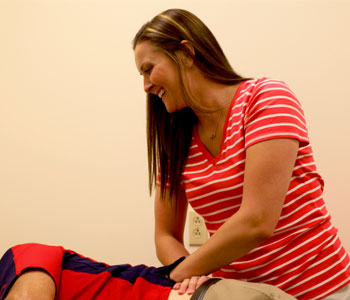 At Bridgeport Physical Therapy, we have worked very hard to provide our patients with as close to an all encompassing variety of treatments as possible. We feel that this is important in order to be able to help people with a wide variety of problems. Our treatments include myofascial release, dry needling, microcurrent electrical stimulation (including electronic acupuncture treatment), pool therapy, manual therapy, computerized isokinetic exercises, balance training as well as modalities, traction and a wide range of strengthening equipment. Bridgeport Physical Therapy is one of the most well-equipped physical therapy clinics in the state. We were one of the first clinics to offer Anodyne therapy for our patients with peripheral neuropathy. We have offered the John F. Barnes Myofascial Release Approach for over 20 years which has proven to be a very safe and effective treatment for both acute and chronic pain conditions. Bridgeport PT was the first health care facility in West Virginia to provide ASTYM manual therapy for our patients. ASTYM is a new, promising treatment for patients with acute and chronic soft tissue injuries.
It is our purpose to provide our patients with the highest quality physical therapy care possible. Our goal is to help every patient eliminate pain and regain his or her previous level of activity as soon as possible.
We will work with you on a person-to-person level to make your road to recovery as smooth as possible. We see each patient as an individual with specific and varying needs. Because of that, we will treat you not as a number, but as a person.
COMMUNITY INVOLVEMENT
Bridgeport Physical Therapy is very active in community activities. We are especially proud to be the primary sponsor for the Challenger Division of Bridgeport Little League, as well as the Benedum Festive 5K Race that supports the Challenger League.